In addition to
new school supplies
, something else that makes going back to school exciting is getting to move into a new space and redecorate. My little sister is going to college for the first time, and I thought that perhaps some of you readers might be in a similar situation. Then I realized that many of these ideas work for decorating other small spaces, so even if you don't have a dorm room to decorate, you might be inspired by these ideas for decorating your apartment, office, bedroom, or child's room.*
Walls and Windows
Hanging Lights.
Let's start with some ambiance.
I hung Christmas lights around my loft bed to decorate for the holidays, and ended up loving it so much, they stayed up for the rest of the year! Hang under your loft bed for a nice glow over your desk, drape around your windows, doorways, or ceiling.
1. Splurge Option:
Globe cafe lights
like the ones above are around $25 for a string of 25 lights.
2. Budget Option:
Another option is to just use
Christmas lights
and
ping-pong balls
! Cut a hole in ping-pong balls and attach to the light to look like fancy globe lights -
check out the tutorial from Say Yes.
3. Splurge Option:
This pretty paper
string of lights
is on sale at Pottery Barn for $19.99. The 12-19 inch
paper lanterns from Pottery Barn
in the picture below are $12 to $19 each. They come in a mirad of colors and patterns, so you shouldn't have trouble matching the rest of your room. The kit to hang them is sold separately for $15.
4. Budget Option:
This
Turquoise Blue Chinese/Japanese Paper Lantern/Lamp 12" Diameter - Just Artifacts Brand
from Amazon.com is $2.99. It also comes in light green and orange, and the price for all three is $7.74.
5. The
Electric Cord for Paper Lanterns
, which enables hanging them from the ceiling, is $8.47, and Amazon also has many inexpensive options for
paper lantern string lights
, ranging from $4.50-$19.99.
Curtains.
Hanging curtains instantly adds a homey feel! All you'll need are a couple panels (be sure to read the package, the picture on the front may show two panels but only contain one) and suspension rods.
6. And don't think windows are the only place your curtains can go:
hide your clothes and shoes
from view by hanging one over your closet, or
create a private study space
by hanging one around your desk, under your loft, or to cover up blank white walls.
7. Splurge:
Curtains at Walmart are about $15 a panel, and suspension rods are around $10.
8. Budget:
You can make your own curtains for
much
less
out of sheets
! With some
craft paint and a simple stamp
, you're in business! Minimal crafting skill necessary.
Frame It.
Because dorms and many apartments don't allow nails in the wall, you'll have to get creative.
9. For this look, attach these
clear adhesive key hooks
to the wall. Cut and tie ribbons to your picture frames, alternating the length, and hang from the hooks. For a different look, alternate colors with the ribbon to match your decor, or use twine for a rustic/vintage feel.
10. Splurge:
Get one (or a few) of these wire letters to hold photos and memorabilia. $15.50 each from
Pottery Barn.
11. Budget:
With cardboard letters and
Mod Podge
, you can make your own letter art! Mod Podge photos, scrapbook paper, or fabric to the letter for a one of a kind collage. For a step by step tutorial, follow along with
Katie
in this tutorial for making
Mod Podged Paper Mache Letters
.
Wallcoverings.
You can't leave any trace, so you'll have to get creative.
12. Splurge:
There is such a thing as removable wall paper! How cute is this
speckled wall paper
from Chasing Paper for $35 a roll?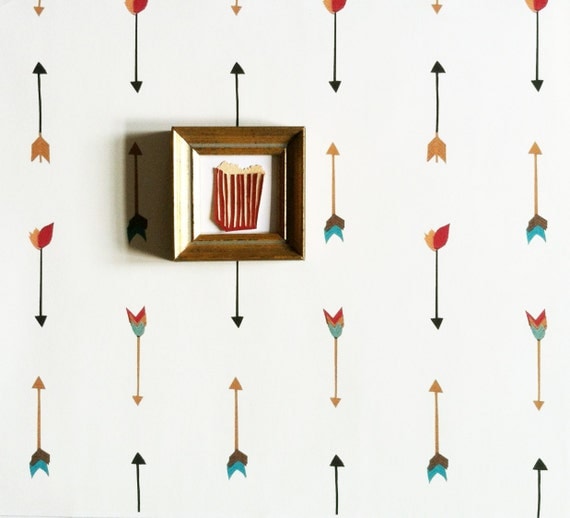 13. Budget:
Add some accents to your wall, like
gold dots
or
gold triangles
. Or for even less, buy
metallic contact paper
and cut out your own shapes! Then you'll have enough left over for some of the other projects mentioned later in this post.
Study Space
Having cute desk supplies may help you get better grades...well, that might be wishful thinking, but having a well-organized desk will help you manage your time better and study more efficiently.
Desktop Accessories.
What's your style? Modern, whimsical, chic?
14. Splurge:
These accessories add a little class to your work space. $12 - $29, per piece from
Pottery Barn.
15. Budget:
This entire
6 piece black mesh set
from Amazon is only $19.99. At that price, you could afford to spray paint it
metallic gold
!
16. And you could always accessorize it with some of the Kate Spade folders.
$32 for a set of six on Amazon.
17. Splurge:
I have a major crush on the Kate Spade office supplies. Don't we all? The investment might be worth it: on Amazon, this
four piece set
as a bundle is $112.92.
Since I've simply got too many ideas to fit in one post, on
Friday
next week I'll share with you ideas and options for planning for assignments and keeping track of important social life details, as well as decor for your dorm hang out (lounge/ kitchen) area, and storage solutions for making the most of your closet space.
Update: Here's Part Two!

*Note: this post was originally written in 2011! Since many of the products were no longer available, I updated it in 2015 and added some fresh ideas.


Do you have some great dorm or small space decor ideas? Share them with us in the comments!